Welcome to the Professional School Counseling Program
*The PSC faculty understand this is a very transitional time for everyone. For the most updated information about the COVID-19 and Appalachian State University, please follow this link:
Should you have specific questions for faculty members please email them directly.*
The 2022-2023 academic year marks the 50th anniversary of the Professional School Counseling program at Appalachian State University!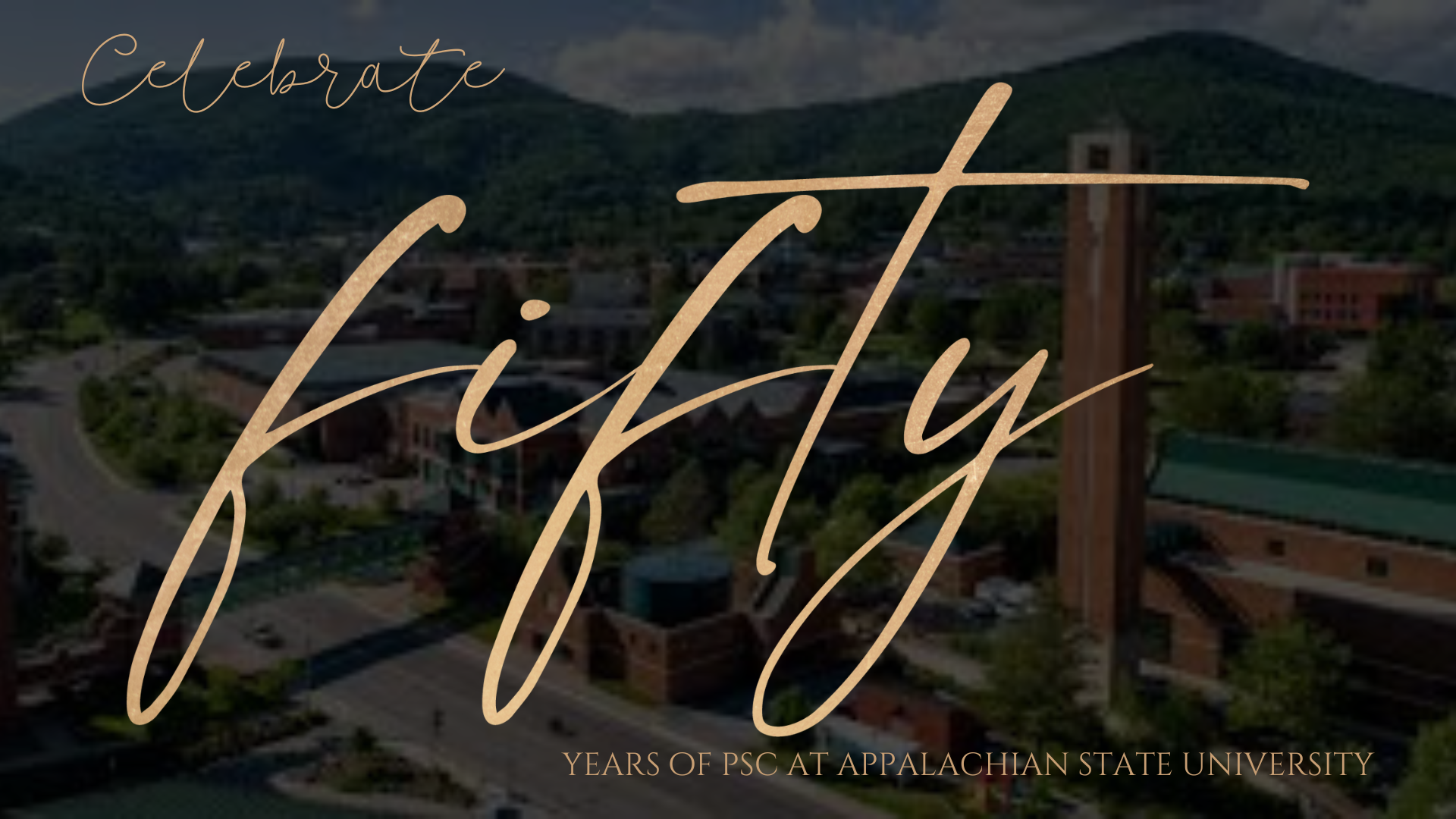 Congratulations to Appalachian State University PSC Alumni, Meredith Draughn, for being awarded ASCA's 2023 School Counselor of the Year!
---
Welcome to Appalachian State University and the Department of Human Development and Psychological Counseling.
The Professional School Counseling Program is fully accredited by CACREP (Council for Accreditation of Counseling and Related Educational Programs) and NCATE (National Council for Accreditation of Teacher Education). Upon successful completion of program requirements you will graduate with a Master's of Arts degree in Professional School Counseling and be eligible for North Carolina School Counseling Licensure (K-12).
For a link to a virtual brochure which contains testimonials from students and professors, please click here!
Department of Human Development and Psychological Counseling Mission Statement:
The Department of Human Development and Psychological Counseling (HPC) is a diverse and collaborative community whose primary mission is to train skilled professionals using a theory-to-practice model in Student Affairs, School Counseling, Clinical Mental Health Counseling, and Marriage and Family Therapy. We have rigorous programs that adhere to best practice standards with a focus on social justice and inclusion, reflexive practice, critical thinking, and engagement. We accomplish this through an emphasis on holistic and person centered approaches.
Professional School Counseling Mission Statement:
Utilizing experiential, contemplative/reflective, and traditional approaches, the Professional School Counseling program provides transformative classroom and field placement experiences which prepare graduates for distinguished service in the school counseling field. The goal of these programs is to address the needs of diverse student populations, thereby supporting the academic achievement, career development, and personal/social growth of all students. Equally, it is our goal to prepare school counselors who care deeply about children and who possess the skills necessary to impact students' lives in positive ways within their schools, communities, and families.
Professional School Counseling Objectives:
Enroll diverse students who demonstrate potential for becoming effective counselors.
Prepare students to demonstrate professional and ethical behavior.
Prepare students who demonstrate knowledge and skills to become competent counselors in their respective specialty areas.
Foster in students a strong identification with and engagement in the counseling profession.
Fast Facts About Professional School Counseling at Appalachian!
Appalachian State is at most 3 Hours from North Carolina's State Capitol, Raleigh, and only 2 hours from Charlotte and Greensboro, which are two of the largest cities in the state. Asheville, home to the Biltmore Estate, is also a quick drive at only 88 miles from Boone! Come and go from App as you please in just a simple days drive.
The PSC program is 60 semester hours; 9 of the program hours are comprised of practicum and internship experiences in the field. You will have the opportunity to take 12-hrs of electives that are of interest to you. The department has strong emphases in expressive arts, addictions, and family therapy.