Utilizing experiential, contemplative, and traditional approaches, the Professional School Counseling program at Appalachian State University prepares its graduates to be distinguished counseling professionals in their schools.
About Our Program
60 Credit Hours
CACREP Accredited
Graduate Assistantships
Unique Course Offerings - 1 of 3 schools that offer Equine Assisted Therapy courses!
Cohort Model
LCMHC Preparation - our faculty members are dually licensed as school counselors and LCMHC's.
Research Opportunities
Scholarly Writing Options
LCMHC Licensure opportunity upon graduation
We are an APT approved provider!
We Also Offer...
Advanced Graduate Certificates in:

Addictions
Expressive Arts
Multicultural Therapy
You WILL Be Ready!
97% of graduates seeking employment in helping professions or doctoral programs were placed within 120 days of graduation
Nearly 20% hired as PSCs before graduation
96% pass rate each semester on the NCE
95% pass rate each year on the CPCE (for the last 5 years)
100% pass rate each year on the Praxis. (for the last 5 years)
3% successfully pursued doctoral studies
Location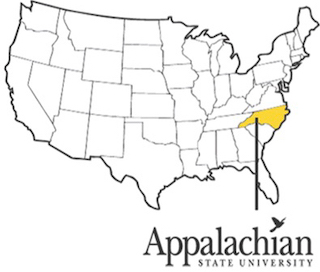 Appalachian State University is located in the town of Boone, located in the northwest corner of North Carolina, nestled in the Blue Ridge mountains at 3,333 feet above sea level. The region is nicknamed 'The High Country' for its mountainous terrain. The University is very much a part of Boone and the regional community. Appalachian' s students enjoy the excitement of a mid-sized university environment, as well as the small-town feel of Boone and it's unique culture. Enjoy local art, food, and craft coffee or beer on King Street, take a drive on the Blue Ridge Parkway, or hike on one of the many trails right off the road. There is something for everyone in Boone! More info about Boone can be found here.
Students' Thoughts
"I felt that the faculty at App State truly cared about my well-being and success." - Karla Katibah, Class of 2021
"I chose App for its unique choices of electives like Equine and Play Therapy. I knew I could have a really special experience in App's program. " - Alex Steiner, Class of 2021
"Immediately I felt an atmosphere of progressive thinking and positive regard from the faculty and current students at Appalachian." - Eliza Dutcher, Class of 2020
"Appalachian was my perfect fit!" - This Could Be You!
Come visit and see for yourself the incredible opportunities that App State has to offer!