National School Counseling Week, celebrated Feb. 4-8, is an opportunity to recognize school counselors who go above and beyond their job descriptions. Carmel Middle School counselor Kelvin Rattley is one of them.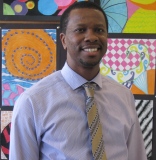 As a CMS graduate, Rattley wanted to find a way to positively influence students' day-to-day decisions. He says his goal has always been to help the community, and as a CMS guidance counselor he can reach a larger population of students at a younger age. He said as a student, he often found himself trying to help his friends solve problems and redirect them on a "straight and narrow" path.
Rattley chose to return to middle school in hopes of reaching students at an earlier age. "If you start to see the problems early on in students, you still have an opportunity to reshape his or her life," he said. "You have a better chance to work one-on-one and give them the self-esteem they will need to stay on the right track in high school."
"Every class change, I am out there in the hallways with the kids," said Rattley. "They know who I am and they know my role and purpose in the school."
"A counselor is not a person you just see when you have a problem, but we're resources for students. We're people they can just talk to," he said. "There are a lot of kids that need that support and guidance to help their tomorrow be a better day."
For more information, please click on http://www.cms.k12.nc.us/News/Pages/CMSgradcounselswithcare.aspx.