PSC + Regional In-Service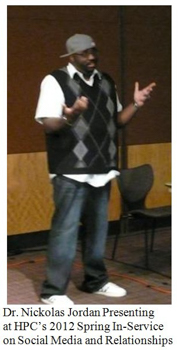 Each spring, supported by the Reich College of Education and the Department of Human Development and Psychological Counseling, the Professional School Counseling Program offers a regional in-service for school counselors. RCOE Partnership school counselors help us identify a pertinent topic each year. We have had school counselors from over 12 counties in the region attend.
Our first year, Dr. Glenn Lambie presented on Youth Aggression. In 2005, Dr. Keith Davis presented on Working with Difficult Parents. Spring 2006 was a collaborative effort between Drs. Alwell, Scarboro, Williamson & Ms. Townsend on Childhood Disorders: Autism, Bi-Polar & OCD. In 2007, we had over 85 participants attend the ASCA National Model Training with Dr. Renee' Evans (NCSCA) & Ms. Cynthia Floyd (DPI). In spring 2009 we sponsored Horacio Sanchez, CEO of Resiliency, Inc. who spoke on the topic of Closing the Achievement Gap (140 participants) and in spring 2010 we hosted Horacio Sanchez speaking on the topic of The Science of Understanding and Preventing Bullying (120 registrants)! In 2011, our in-service was titled Connecting with Latinos (80 participants). Last year in 2012, Dr. Nickolas Jordan presented on Social Media and Relationships. Stay tuned...
School counselors are always open to collaboration and in that spirit we welcome school administrators, social workers, psychologists, counseling students, etc. to attend these educational opportunities. CEU credit through NBCC is available.
Past Programs
Spring 2016: Supervision In Service
Spring 2015: Summit
Spring 2014: Access Summit
Spring 2012: Social Media and Relationships
Spring 2011: Connecting with Latinos!
Spring 2010: The Science of Understanding and Preventing Bullying
Spring 2009: Closing the Achievement Gap
Spring 2007: The ASCA National Model
Spring 2006: Childhood Disorders: Autism, Bi-Polar & OCD
Pictures fromt these programs may be found HERE!